Features
Our CDM 600 Document Drilling Machine allows you to quickly drill up to 500 sheets at a time (about 6 cm deep).
You can verify the security measures of the Tickets and Documents through a friendly system,
Benefits
With its tubular perforation design, it manages to transfer volume of documents that are tied, such as: paid checks where you need to keep the samples physically, coupons and vouchers paid, transport tickets already used, all the above deserve an annulment to prevent them from being reused and maintain integrity and security within the companies involved in these activities.
Its use is completely elementary, just turn on the equipment, place the material to be drilled and press the control of the drill.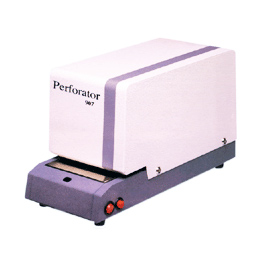 Features
Drilling machine model CDM-907 is a robust equipment, for continuous work.
allows you to drill up to 20 sheets at the same time with a perforation speed of 30 times per minute.
The perforation diameter is 1.5 mm to 2.0 mm.
Benefits
Its perforation is electric and is done automatically when entering up to 20 sheets by drilling a line with the messages: Paid, Canceled, Canceled, VOID, PAID, and any other message required to be done in a special way.
Easy to use.
---